Rain Maker Kiosk, the first ATM designed specifically for night clubs, has been officially launched, allowing withdrawals of up to $1,000 available in a mix of $20 and $1 bills.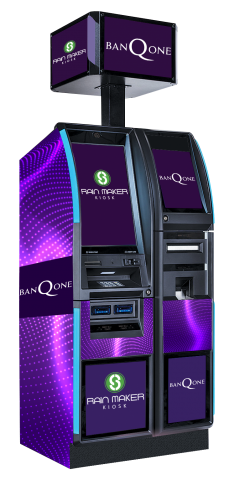 Miami Beach, United States - May 19, 2019 /PressCable/ —
BanQone has announced the launch of Rain Maker Kiosk, the first ATM machine designed specifically for night clubs, bars, pubs, and other establishments. The machines allow customers to withdraw up to $1,000 in $1 and $20 dollar bills, making it ideal as a convenient source of cash for tipping and other transactions.
More information can be found at http://www.BanQone.com
Until now, night club owners have been relatively limited in their choice of ATM services for their establishments. Most machines limit withdrawals to a few hundred dollars, usually paid in large bills, making them impractical both for high-rollers looking to withdraw larger sums, and average customers who need small cash for tipping.
The new Rain Maker Kiosk aims to solve these problems by offering a convenient way for customers to withdraw larger sums payable in bills including $1 and $20.
Night clubs and other establishments working with BanQone benefit from complete assistance towards the implementation of Rain Maker Kiosks. Services include ATM installation, maintenance, and management, BanQone is striving to offer a streamlined experience for the satisfaction of both establishment management and patrons.
According to a spokesperson for the company, the benefits of the new system range from improved access to cash to higher overall spending: "Rain Maker Kiosk is the first ATM that can dispense up to 1,000 in a single transaction and allow patrons to get a mix between $20 bills and $1 bills. For the first time, patrons know exactly where to get the singles they need for tipping without having to wait on bar staff. Convenient access to cash and change equals more spending in an establishment and more tipping for entertainers. There has never been an option that is as flexible as what we are able to offer."
Interested parties can find more information by visiting http://www.BanQone.com
Contact Info:
Name: Star Riley
Email: Send Email
Organization: MyUSALocal.com
Address: 1521 Alton Road Suite 175, Miami Beach, FL 33139, United States
Phone: +1-954-247-4831
Website: https://myusalocal.com
Source: PressCable
Release ID: 514354