Natural Stone used as a building material is a win-win for the environment AND for a home owner. It reduces the environmental footprint, while at the same time adding value to the property.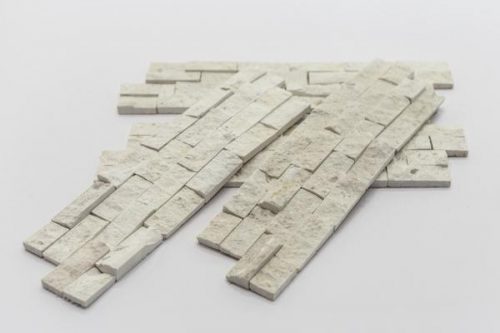 Kelowna, Canada - May 18, 2019 /PressCable/ —
Using Natural Stone in a new build or home renovation can increase property value AND be pro-active with the environment. The controversial carbon tax, on the other hand, will not likely increase personal wealth, and may not even deliver a positive impact on the overall environment. This has yet to be decided.
"I have clients who absolutely hate the carbon tax – they think it's a just another money-grab. But they also have a deep understanding that their environmental footprint is important – for themselves, and for their children's future. They feel that incorporating natural stone into their homes is one of the many things they can do that actually does make a difference. And, it also makes their home that much more beautiful, and this increases re-sale value." says Mihaela Rasovic, CEO of Euro Natural Stone based in Kelowna.
Even the processing of Mihaela's stone is environmentally friendly. "All of our tiles and fixtures are hand made. So, yes, there is a carbon footprint. These dedicated individuals working with this stone do, in fact, exhale CO2. But I believe they were going to do that anyway."
Mihaela grew up in Mediterranean Europe, where stone structures were the preferred building method. This is where she developed a deep appreciation for rocks. Their beauty. And their durability. It is not uncommon for people in this region to live happily in houses built up to 1000 years ago.
Euro Natural Stone imports quality stone products from this ancient region. These stone building materials are formed by dedicated craftsmen and women who spend time and energy perfecting their stone creations…. whether it be simple floor and wall tiles, or incredible mosaic designs for important focal points.
Mihaela has spent time in the factory, hand-picking the stone that she imports, and on one occasion, took the time to film some of their processes. There is a short video of these crafts men and women in action on her website.
Mihaela came to Canada back in 1998, and, together with her husband ran, a successful construction business in the Okanagan region. She has over 15 years experience designing spaces – specializing in bathrooms, kitchens and garden areas.
Over the years, while working in the home-building and construction industry, Mihaela's appreciation for the benefits and timelessness of natural stone only grew. She needed to purchase quality natural stone for her projects, and found the supply choices to be somewhat limited. This is when she decided to import the stone herself, knowing that the quality and craftsmanship from a land with thousands of years of history in stone works cannot be matched.
For most people, a room filled with quality natural stone can feel quite luxurious. And, at the same time, this luxurious building material is also a very eco-friendly choice. Natural Stone can upgrade the look and feel of any room or any patio. It is also a superior choice in terms of durability, maintenance, and colour retention.
The minerals in natural stone oxidize through time, making the stone look richer and brighter through the years. Most manufactured stone features, on the other hand, while consuming energy resources to create, also suffer from bleaching and fading through time. Manufactured Stone doesn't age well, whereas Natural Stone arguably becomes more precious.
The formation of natural stone is a natural process. It does not consume fossil fuels. In addition, there are no synthetic ingredients used in the "manufacture" of natural stone. It comes from the earth. It is formed by nature.
Another key benefit to using natural stone, is that not only is its creation eco-friendly, it also has an environmentally neutral impact on the back-end. Natural stone can be recycled over and over and over again. It does not degrade. People have been known to gleefully use thousand-year old stone to make beautiful new structures.
The problem with many building products used today, is that when the building is torn down, the waste material clogs the landfills. Natural stone is coveted. There will always be someone who will come pick up the stone and make use of it again. Even if they simply put it in their garden.
The decision to incorporate natural stone into a renovation or new home build is, in fact, a win-win for the environment and for the home owner. A homeowner can actually do their part to reduce their environmental footprint, while at the same time adding value to their home.
A final compelling reason to use natural stone is that it has gotten very affordable in recent years. In fact, Euro Natural Stone has been able to import this hand-made, luxury stone at prices her customers appreciate.
Mihaela has been gearing up for the renovation season in the Okanagan, and has stocked up on some pallets of premium natural stone products that she has been selling to customers at warehouse prices. She is very optimistic about the choices homeowners, restaurants, and boutique hotels are making – not only for the environment, but for the beautiful, natural look and feel of their buildings. She wants to continue to be a part of this revolution.
Contact Info:
Name: Mihaela Rasovic
Organization: Euro Natural Stone
Address: P.O. Box 29028 Okanagan Mission, Kelowna, British Columbia V1W 4A7, Canada
Phone: +1-250-808-5555
Website: https://euronaturalstone.ca/
Source: PressCable
Release ID: 514289